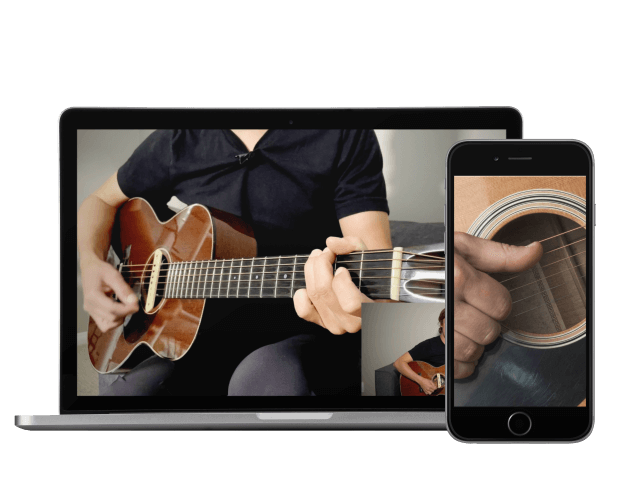 101 Fingerpicking Patters
Regular price
$30.00
Sale price
$15.00
/
---
101 FINGERSTYLE PATTERNS
101 unique and inspiring finger-style patterns for the aspiring fingerstyle guitarist


This training collection is literally 101 video tutorials on nearly every single fingerpicking pattern you could ever come up with.  With this collection, you'll have a clear path to finally become a proficient fingerstyle player and go WAY BEYOND the basic few patterns you're stuck using and start playing like the acoustic guitar legends.
WHAT'S INSIDE

- EVERY SINGLE PATTERN - EVER
We leave no stone unturned, and provide an in-depth analysis on how to play literally every single fingerstyle pattern on the guitar. In finally demystifying both classic and complex fingerstyle rhythms, you'll finally be equipped to move way beyond your 'go-to' 3 or 4 default patterns, and draw from the same well as that of the great fingerstyle players of music history.
- WALKTHROUGHS OF CLASSIC SONGS
Because we know that information is good, but 'context' is even better, including in 101 FINGERPICKING PATTERNS are hit song walkthroughs taken from the last 6 decades of modern music.

Not only will you be able to see how these patterns fit into classic songs, but you're going to love to finally be able to play those hit fingerstyle songs that you always wished you could play (Sting, James Taylor, Simon and Garfunkel, Ed Sheeran and more).

- ROCK SOLID TECHNIQUE
Fingerstyle playing is frustrating and overwhelming for a vast amount of guitarists, leaving them 'falling back' on 1 or 2 go-to patterns. That's why, the first thing we show you is how to build and maintain a proper 'picking hand' technique so that learning 101 different fingerstyle patterns feels easy, achievable, and accessible.
- PLAY LIKE A LEGEND
Let us show you how to pick up your guitar and naturally 'flow' with fingerstyle playing - allowing your playing to become incredibly diverse and dynamic. With these patterns and a proven practice plan, you're going to be playing like the legends you look up to in no time!