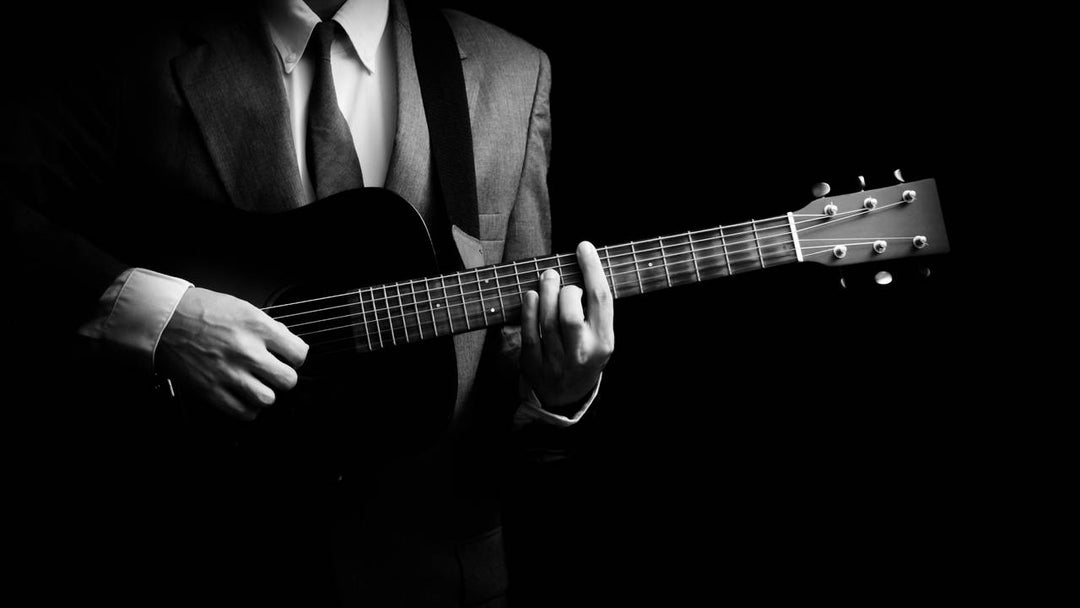 The Mastery Bundle
Regular price
$200.00
Sale price
$100.00
/
---
Our 5 highest tier masterclasses in one epic bundle, covering in-depth analyses on Tone, Acoustic Playing, Technique, Chord Voicings, and Recording/Studio Guitar.
Here's What's Included In The Mastery Bundle:
Acoustic Guitar Mastery: 
Become a pro-level acoustic guitarist with this comprehensive 5-part crash course designed specifically to help you break through the walls of being a self-taught Acoustic Player and crush your goals. 
Going through this workshop you'll find yourself ​solidifying the fundamentals of acoustic technique, including fingering, rhythm, and chording - so you can play more accurately and gain a strong foundation in the instrument.  You'll discover how to 'shape melody' with all five fingers, so your fingerstyle playing becomes musical and emotional instead of just stagnant boring patterns.  You'll ​​develop advanced techniques that will add intricacy, finesse, and creativity to your playing.  And finally, you'll ​'sound' like a genius by learning to dial in every aspect of acoustic guitar tone (both on stage and studio) so your guitar sounds incredible every time.
SESSION 1: Build Your Foundation
This is the perfect 'bootcamp' for laying a solid foundation in your acoustic playing including workshops on Timing, Picking, Fingerstyle, Chords, Smooth Chord Changes, Progressions, Capo Playing, Barre Chords, Learning Hit Songs, and even Music Theory with The Nashville Number System (this is the most we've ever packed into one single week!).
SESSION 2: Master Advanced Patterns
In this session, you'll travel way beyond basic fingerstyle and strumming to discover how to unlock limitless rhythmic creativity by breaking down a multitude of advanced 5 finger fingerstyle patterns, unique strumming techniques, and percussive playing.
SESSION 3: Melodic Playing
This is the week that turns you into a fingerstyle master player. The art of being able to actually shape melody with each of your individual five fingers of your fingerpicking hand means you go way beyond basic patterns and shape emotion into your playing while gaining full control and confidence over each finger.
SESSION 4: Chord Progression Masterclass
The way pros can make even basic chord progressions sound beautiful, interesting and sexy? Yea..this is all about that. Let's finally turn boring chord progressions into beautiful, easy and accessible phrases for you to play - anywhere on the neck.

SESSION 5: Studio and Acoustic Audio
Achieve pro-audio results out of both your live DI and your micing techniques, and learn to engineer beautiful acoustic guitar audio (including training on EQ, Micing, Pre Amp, and Plug-ins).
Sound Like The Album Bootcamp:
Inside Sound Like The Album bootcamp, you'll transform your tone beyond what you thought possible into sounding exactly like the albums that you love. Each day of this 5-day bootcamp focuses on matching different styles of guitar recordings - from Coldplay's meticulously compressed shimmery cleans to Radiohead's wildly modulating chorus lines, you'll find a revolution in the way you approach crafting your tone within each module.  
Breakthrough Technique: 
A challenging suite filled with lessons, goal-oriented challenges, and fretboard technique classes geared towards intermediate guitarists who are ready to take on more advanced levels of playing.
Breakthrough Technique Includes Unlock The Neck - 8 full workshops aimed to help guitarists break out of their routine and normal 'go-to' patterns of practice and playing, learning the CAGED system (a tool to help better visualize and navigate the guitar neck), growing their finger independence skills, maximizing their practice time, and even strengthening their slide playing.

This suite also includes the Intermediate Lesson Pack: 8 weeks of technique lessons perfect for intermediate players, as they are geared toward players who want to perfect their ability to build solos, scales, chords, and riffs anywhere on the neck in any key.

And finally, it includes our Guitar Challenge Suite: 37 goal-oriented challenge workshops, where guitarists are given specific goals to hit, be it anything from a challenging solo to a new slide guitar technique and are guided step-by-step in how to achieve the challenge faster than they thought possible.
The Chord Council: 
Discover how to play incredible, creative voicings by ear and on command, without needing to reference or memorize complex charts.
Session 1: The Theory Of Chords.  
This is the why session behind the All The Chords book. SO that you you don't just have a chord book, but I'll turn the lightbulb on in your head explaining WHY there are so many dang chords possible (trust me, you want to know this.
Session 2: Unlocking Chords On The Neck With The CAGED System. 
In Session 2, you'll discover how to make it drop-dead simple to change to any key, with any chord - because you've connected the 5 Positions On The Neck with Music Theory. 
Session 3: What To Play And When To Play It
This is the part that makes you sound like a genius. The art of being able to pick specific types of chords for specific situations means you'll always sound incredible - no matter the style, key, or song.
Session 4: Jazz Chords - 7ths, 9ths, 11ths, 13ths...
Those sexy complicated chords you've always wished you knew how to play? Yea..this is all about that. Let's finally make those chords easy and accessible for you to play - so that you can pull them out on command.
Session 5: Capo Chord Form MasterClass
Capos aren't for cheaters. They are a tool for creating interesting textures and expanding the capabilites of your guitar. This session is all about expanding the use of the Capo in ways you've never thought about.
Session 6: Expanded Chords in DADGAD (Open Tunings)
Open tunings can feel daunting and like learning a whole new instrument from scratch. But when you have a method and path to simplifying them, your guitar playing will become limitless. This final session is all about how to become comfortable playing any chord in open tunings
Build Your Music Biz:
A full length 4 part masterclass suite built to show you how to land paid recording gigs every single month... without relying on luck, working for free, or "grinding" for years.
Part 1: Understanding Your Client
This is where 99% of musicians (even successful ones) limit themselves. It's absolutely vital to start thinking in terms of "who am I serving" and "how can I help them best."

You're not just a musician - you are uniquely gifted to be able to help producers realize their creative vision.

Without this vital perspective shift, you'll never become someone's "first choice.".
After part 1, you'll walk away with a clear understanding of who you're serving, and how you can best help them.
Part 2: Understanding Your Product/Offer
In this crucial phase, we'll work with you to "reinvent" yourself and what you can do to become irreplaceable to a producer.

We'll help you not only sound great, but help you to create a plan to completely OVER-deliver on what a producer expects - in a way no one else will.

Walk away with your unique "superpower" that makes you the "goto" guy.
Part 3: Getting Your First Gig.
Now that you know who you are serving, and how you can help them best... we are going to help you find them.

Once you find them, we're going to show you EXACTLY what to say and how to ask them for work, and how to negotiate a price that works well for both of you.

We'll even give you our exact contract templates so you can just copy/paste and change a few names, dates, and words and get going.
We'll personally help you write and craft the perfect system for finding producers, connecting with them, asking for the sale, and getting hired by them.
Part 4: Scaling Up and Filling Your Calendar
Getting your first, second or third gig is actually not the hardest part of making it as a musician.

It's setting yourself up to get the NEXT gig.

Whether that's having a "pipeline" of potential work, or becoming someone's "goto guy"... turning this thing into an actual income stream (or career) takes strategy, intention, and presence.

There are specific things you'll want to do. We'll show you how.
You'll set yourself up for future work, repeat work, and finally be in the driver's seat of your career.