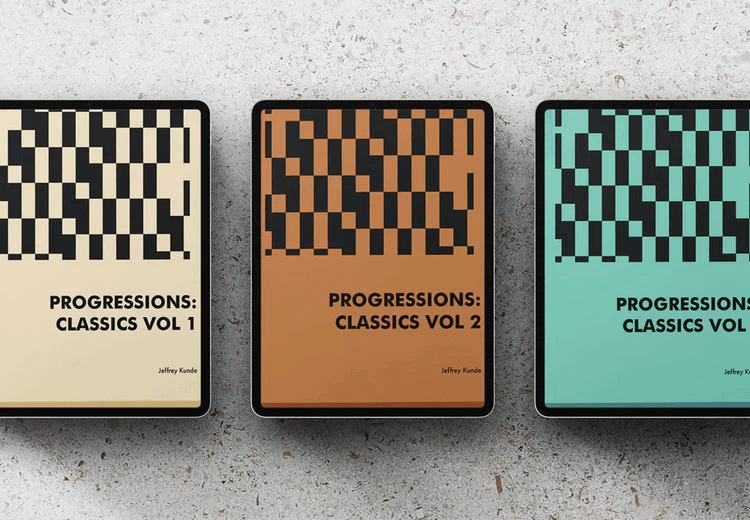 Progressions Classics Volumes 1-3 eBooks
Regular price
$60.00
Sale price
$30.00
/
---
We wrote Progressions: Classics, a 3-part book series because we wanted to provide the easiest and most effective way for guitarists to play brand new voicings inside the songs they are already working on.

With the series, you'll be able to take the everyday songs you play at church, in your band, or at home and quickly find new ways to "freshen up the vibe" of the chord progressions within those songs!

Every chord progression included is broken down into 10 unique ways to play it up and down the guitar neck. Now take each of those progressions, and multiply them by all 12 key signatures possible, and you have the most complete resource on the market for playing classic progressions on the guitar.

Classics. Vol 1
Nearly every pop, rock, worship, country, and folk song features a progression that centers around the root chord, resulting in modern guitarists struggling to differentiate their sound when progressions don't deviate from song to song. That's why we've put together 237 pages that deep dive into making these well known classics sound unique, full of character, and most importantly: sound inspiring and are fun to play.

Classics. Vol 2
In Volume 2, we are expanding into root-centered progressions that also variate to include minor two chords. Adding in the 2 will have you discovering brand new ways to build tension and suspense.

Classics. Vol 3
In Volume 3, we take what we've learned in Volumes 1 and 2, and expand into progressions that also feature the Minor 3. Sometimes described as "brooding", the variations and positions featured will unlock hundreds of ways to creatively play this beautiful and powerful progressions.